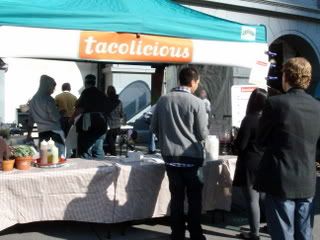 I won $25 in tacos from a Tacolicious drawing at the Foodbuzz Food Faire. Last Thursday, I took a trip to the Thursday Farmer's Market at the Ferry Building in San Francisco to redeem my tacos! So excited.
It was a crisp winter afternoon at the Embarcadero. The sun was shining through the blue skies and people were happily enjoying the Farmer's Market. As I approached the Tacolicious stand, situated right outside of the Ferry Building, who stands in front of me in line? None other than David Chiu, President of the San Francisco Board of  Supervisors. He's the first Chinese American supervisor for Chinatown/North Beach! And he beat out veteran supervisors to become the first AsianAmerican President of the Board of Supervisors.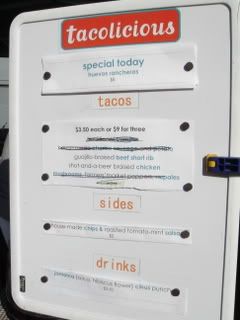 We had a nice conversation and I told him about Roli Roti's porchetta sandwich, which I refer to as a "manwich". Their rotisserie truck is near the Tacolicious stand. He admitted that he has never tried it but he will. He's a really nice guy and I know him through my husband. And being a true San Franciscan, he bikes around the city in a business suit!
Anyway, back to the tacos. There were 4 choices for tacos available: guajillo braised beef short rib; shot and a beer braised chicken; house-made chorizo sausage and potatoes; and mushrooms, farmer's market peppers, nopales. I ordered 2 of each so I could bring some home for my husband.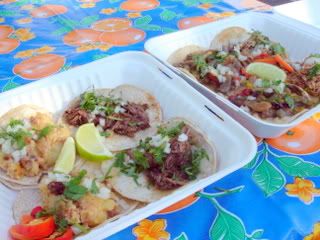 Tacos are $3.50 each or 3 for $9, a deal! Each taco is made to order so it's as fresh as it gets and piping hot. You can eat it right away as there are tables nearby or you can take it to go. Tacolicious provides convenient takeout boxes.
The tacos were amazing! Tacolicious tacos are even better than Kung Fu tacos. Sorry, Kung Fu Tacos. Tacolicious tacos have a lot of flavor. They have spicy sauces like habenero, that you can drizzle over your tacos, but I ate them plain. The tacos are still good. I loved the chorizo and potato, the shot and beer braised chicken, and the guajillo braised beef short rib tacos. The meat is so tender and perfectly seasoned on two soft tacos. The mushroom taco was a bit too spicy for my taste, but my husband liked it.
The Tacolicious stand is available on Thursdays at the Farmer's Market at the Ferry Building in San Francisco or at Laiola Restaurant. It will become your favorite taco too.