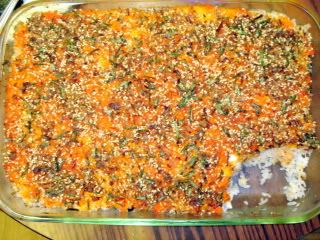 Sushi Bake with a portion scooped out
For potlucks and get togethers, I always make Sushi Bake. It is the no-fail, crowd pleaser. This Sushi Bake recipe came from a friend but I modified some of the directions. You can use imitation crab or real crab meat. The advantage with using real crab meat is that it is easier to cook with. You can skip the unwrapping, thawing, and chopping process that you'll have to do with imitation crab.
Ingredients:
1 cup raw Japanese rice (Calrose)
1/2 cup mayonnaise
1 cup sour cream
1 lb. frozen imitation crab sticks (chopped) or real crab meat
1/2 lb. frozen, raw baby shrimp (chopped)
Tobiko aka Masago (orange fish eggs)
1 container of Furikake seasoning
1 – 2 pkgs of Japanese Nori seaweed
one 9X13″ pan or glass baking dish
Directions:
Cook rice.
Preheat oven to 375 degrees. Boil raw baby shrimp for a few minutes, until the shrimp color turns pink.
Turn off the heat and remove cooked shrimp from water with a slotted spoon, leaving the hot water in the pot.
Defrost frozen crab sticks, leaving wrapper on, in this hot water.
Chop baby shrimp into small pieces.
Remove crabs sticks from hot water and unwrap plastic wrap, then chop crab sticks into small pieces.
Combine crab sticks, baby shrimp, mayonnaise, and sour cream together in a bowl and mix well.
Spread cooked rice onto 9X13″ pan.
Spread crab stick, baby shrimp, mayonnaise, and sour cream mixture over the cooked rice.
Spread Tobiko over mixture, then sprinkle Furikake over the dish.
Bake at 375 degrees (about 15 to 20 minutes).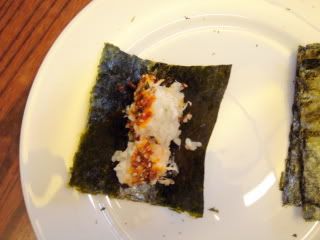 Serve with Korean style nori or Japanese nori (sushi seaweed). Cut seaweed sheets in four. Add a spoonful of baked sushi on each seaweed, fold it into a roll and enjoy.
Note: All the ingredients can be found in most large Asian supermarkets (Chinese, Korean, or Japanese).
Where to Buy Ingredients: YummySF store.