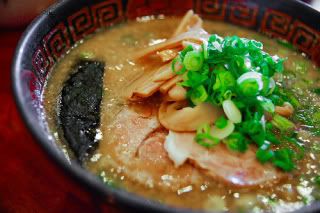 Soy Sauce Ramen
Yum! Santa Ramen in San Mateo, CA is my favorite ramen noodle restaurant. I just crave their ramen all the time. To be honest, I have gone to Santa Ramen 6 times in the past month.
Their ramen is 10 times better than Iroha in San Francisco's Japantown. What's special about the ramen at Santa Ramen is the hearty, flavorful broth. Made of stewed fatty pork, tiny bits of garlic, and a lot of love, the broth calls my name. And I gladly answer. Ramen is total comfort food for the winter.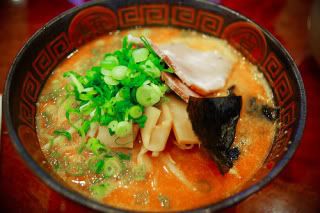 Miso Ramen
What I also like about Santa Ramen is that they specialize in ramen. There are only 3 ramen noodle soups on their menu – Miso Ramen (my favorite), Soy Sauce Ramen, and Pork Flavor Ramen. The ramen comes with a piece of nori seaweed, green onions, bamboo shoots, and 2 slices of fatty pork that will melt in your mouth. Sorry, their ramen is not for vegetarians. I have seen vegetarians abruptly leave the restaurant after looking at the menu.
You can customize your ramen noodle soup by adding additional items,  such as napa cabbage and shiitake mushroom, a boiled egg, seaweed, and more slices of pork.
Tip: If you plan to go, get there early, as there will be a line formed outside the door before Santa Ramen even opens. The line usually starts about 15 – 20 minutes before they open for lunch 11:30am or dinner 5:30pm.
My husband and I have gone early to be the first in line and it's totally worth it! About 5 minutes before Santa Ramen opens, they come out and take your order. They don't take everyone's orders, just the first couple of groups in line. So if you are first in line, you will get your ramen before anyone else.
Whether you arrive early to get in line or arrive when they are open, plan to wait for at least 15 minutes. Santa Ramen is closed on Tuesdays.
Hours:

Mon., Wed-Sat. 11:30 a.m. – 2:00 p.m.; 5:30 p.m. – 9:30 p.m.

Sun. 11:30 a.m. – 2:00 p.m.; 5:30 p.m. – 9:00 p.m.