On a rainy afternoon, my husband and I decided to have afternoon tea at Samovar Tea Lounge in San Francisco's Yerba Buena Gardens. We have walked by the Lounge a few times and it has always been brimming with people. But on this day, Samovar Tea Lounge was noticeably empty, due to the rain. We were delighted to have most of the place to ourselves. I had the English Tea Service and my husband had the Japanese Tonsu Box and Ryokucha.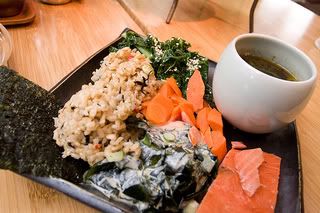 Japanese Tonsu Box & Ryokucha $17

Poached Silken Tofu w/ Yuzu Shoyu, or Wild Smoked Salmon, Braised
Japanese Eggplant, Sesame-Wakame Seaweed Salad, House-made pickles,
Brown Rice, Seasoned Nori, Squash-Miso Soup.
To tell you the truth, when I saw the Japanese Tonsu Box, I was envious and immediately wished I had ordered that instead. Thankfully, my husband let me have his Japanese Tonsu Box. It's healthy and yummy at the same time. The Japanese Tonsu Box comes with Ryokucha Tea.
Ryokucha Tea
The Squash-Miso soup is deliciously delicate with little bits of lentils and carrots. I also really liked the Sesame-Wakame Seaweed Salad with its creamy dressing. We used the Seasoned Nori to wrap up rice with salmon and seaweed. Yummy! The Ryokucha Tea is thick and creamy, a unique texture for a type of Genmaicha Tea.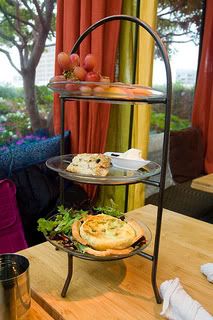 English Service & Breakfast Blend $19
3-Tiered Platters of: Shitake Mushroom or Wild Smoked Salmon Quiche,
Scones, Devonshire Cream & Jam, Fresh Fruit.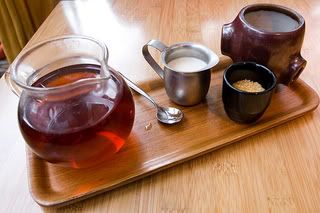 Breakfast Blend Tea
The traditional English Tea Service is not like the one at Ritz Carlton of course. But at $19, it's a deal if you want to try traditional English tea. The Salmon Quiche is freshly baked. The scone was quite dry though, but that's what the Devonshire Cream and Jam are for. Definitely, the Japanese Tea Service is much better and more filling as a meal. Next time, I want to try the Indian Tea Service which features one of my favorite teas – Chai!
Samovar Tea Lounge is open from brunch to dinner with the same menu all day. Enjoy a snack of waffles or try a full tea service which can be a meal. The tea service is more affordable than other afternoon tea services that I have had.
Samovar Tea Lounge
730 Howard Street
San Francisco, CA 94103
(415) 227-9400