My husband spotted the Kung Fu Taco truck outside of an APAture event and brought home some Asian fusion tacos for me. The characters in red on the front of the truck say "kung fu" in Chinese. Kung Fu Taco just started in August so they are really brand new.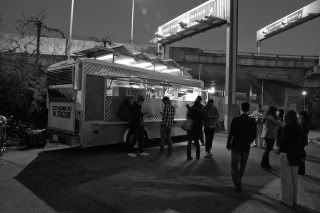 Basically, a kung fu taco consists of 2 layers of soft taco with Asian ingredients for the filling. They cost $2 – $3 for these small sized tacos.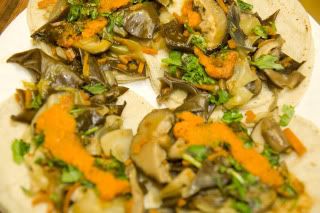 The Mu Shu Vegetable taco (above) has 2 kinds of mushrooms – shiitake and white mushrooms, black fungus or wood ear fungus (a cleansing Chinese ingredient commonly found in Monk's dish), along with cabbage, shredded carrots, cilantro, and a spicy ground carrot sauce. This mushroom taco is my absolute favorite. The Mu Shu Vegetable taco is hearty because of the mushrooms which have a lot of protein, yet it is balanced with the sweet juiciness of the cabbage. Who knew that a vegetable taco could taste so good?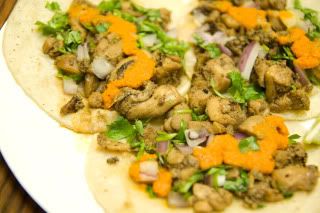 The Nun Chuk Chicken taco (above) has chicken, onions, cilantro and has a pleasant, sweet flavor that compliments the spiciness and is my second favorite.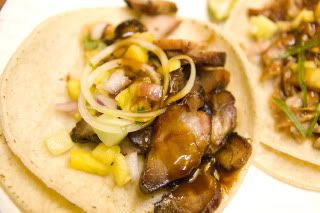 Roast Duck taco (above) has roast duck with bits of fresh mango and onions. I thought I would like this one more but the mango pieces are dry. The mangos need to be incorporated into the sauce.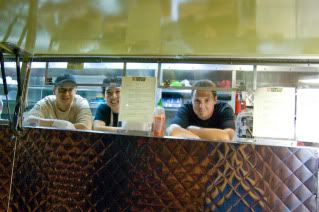 Where can you find the Kung Fu Taco truck? They are usually at San Francisco's Financial District on Sansome and Jackson Street for weekday lunch. Follow them on Twitter or Facebook.