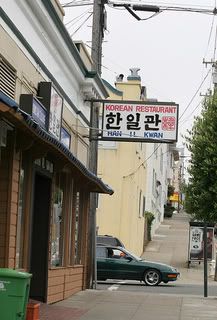 Located in San Francisco's Richmond district, Han Il Kwan Korean Restaurant features delightful, affordable Korean food. Their weekday lunch specials are notably great! Usually, at Korean restaurants, their main dishes are around $15 and are too big for one person. At Han Il Kwan, the lunch specials are perfectly proportioned for one person. You and a friend can always order 2 lunch specials to share, to get variety. I like variety. Maybe that's why I love Korean food and those delicious side dishes.
Kal Bi (BBQ Short Ribs)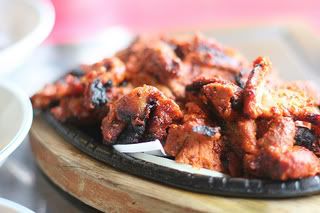 Spicy Pork BBQ
Their lunch specials are served Monday to Friday from 11am to 3pm. The choices are Bul Go Gi (broiled, marinated sliced rib eye steak), Kal Bi (broiled, marinated short ribs), Pork BBQ, Broiled Chicken, Pan Fried Combination Seafood and Vegetables (spicy), and Pan Fried Sauteed Squid (spicy).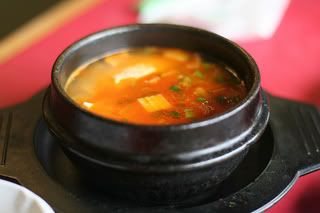 Spicy Tofu Soup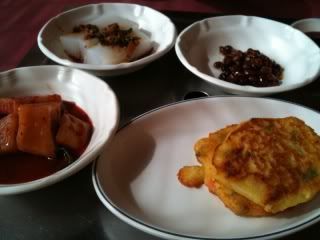 Side Dishes with Veggie Pancake
All of these entrees come with 10 little side dishes of vegetables. What I also love about Han Il Kwan is that they also include a mildly spicy soup, mung bean pancakes (yum!), and shik-hye (cold, refreshing rice drink). I absolutely love shik-hye and will go to the ends of the earth to get fresh shik-hye. Not too many Bay Area Korean restaurants serve this yummy rice drink.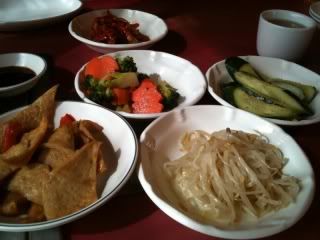 More Side Dishes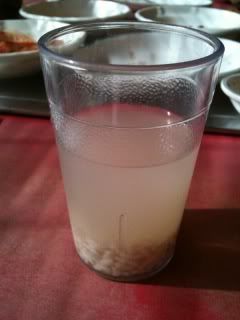 Shik-Hye (cold, refreshing rice drink)
Their Broiled Chicken lacks flavor so I recommend trying the Pork BBQ, Bul Go Gi, or Kal Bi, which you cannot go wrong with. All of the lunch specials are fairly affordable ranging from $7.95 – $10.50. Please note that during weekday lunch, they usually have a large tour group that eats there, in a separate room. There are always open tables though, and the service is efficient. Besides the lunch specials, there are items on the menu that you can BBQ at your table.
Han Il Kwan
1802 Balboa Street
San Francisco, CA 94121
(415)752-4447