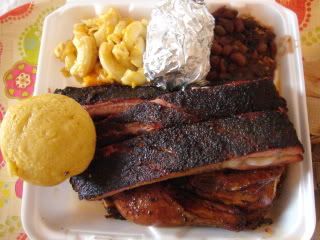 Housed inside a bright orange box car along Highway 1 in Pacifica is the best BBQ you'll ever have! Gorilla BBQ was established in 2006 by 2 native Pacificans, Rich Bacchi and Jeff Greathouse. And they do one thing right, BBQ. Their homemade BBQ sauce is unlike no other – tangy, smoky, delicious! No other BBQ sauce comes close or even tastes like theirs. Gorilla BBQ's meats are bbq'd to perfection and plated in hearty portions.
You can choose from Pork Ribs, Chicken, Beef Brisket, Pulled Pork, Hot Links, and Philly Cheesesteak (sandwich only). In the picture above, I had the 2 meat combo with Pork Ribs and Chicken, with 2 sides – Mac & Cheese (made with Goldfish crackers) and Corn on the Cob. The Pork Ribs were tender and moist, practically falling off the bone. The combo plates come with beans and rice and cornbread.
They were featured recently on Food Network's Guy Fieri's show, "Diners, Drive-ins, and Dives."
Gorilla BBQ doesn't take phone orders and it's take out only. You have to order in person but the food is already made so it is only a short wait. Sometimes the line goes out the door so go early! They are also closed on Tuesdays.
Gorilla BBQ
2145 Coast Highway
Pacifica, CA 94044
(650)359-RIBS (7427)