I was so excited to attend the Fancy Food Show in San Francisco's Moscone Center for the 3rd time! The Fancy Food Show is an international gourmet food show where food companies debut their newest products before it reaches stores. The show is also a venue for food companies seeking distribution in grocery stores and restaurants.
I went on Sunday with my husband. This time I felt a little more prepared and less overwhelmed.
I have grouped my posts according to different categories – ethnic foods, tea, drinks, and snacks. Brace yourselves, this is the 1st of 2 posts about the Fancy Food Show. Enjoy!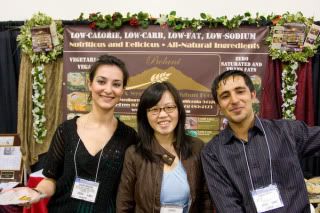 With the Bolani people
East & West Gourmet Afghan Food, a family owned business, makes awesome Bolani. This is their first Fancy Food Show! What is Bolani? It's an all natural, thin flatbread, folded in half with a vegetable filling. Bolani is low calorie, low carb, low fat, and low sodium. Yet it's high in flavor and completely satisfying. My favorite Bolani fillings are spinach and pumpkin.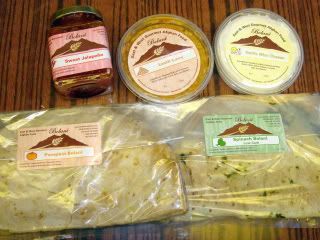 Bolani and Sauce
You can toast them up in the toaster or a pan. They have a wide array of sauces to go with the Bolani. My faves are garlic mint cheese, lentil curry, and sweet jalapeno. So delicious, healthy, easy-to-digest, and even vegetarian! You can find them on Saturdays at the Alemany Farmer's Market and on Thursdays at the Serramonte Farmer's Market and the Crocker Galleria Farmer's Market. Whole Foods and Andronico's also carries bolani.
With Dalbir Singh of Sukhi's Gourmet Indian Cuisine
My husband and I were standing in front of Sukhi's Gourmet Indian Cuisine booth, our favorite booth for "lunch" at the Fancy Food Show. All of a sudden, we hear someone say, "Hey, it's the YummySF guys!" It turned out to be Dalbir Singh, Sukhi's son and official taste tester of Sukhi's Gourmet Indian Cuisine. Official taste tester? Where can I get a job like that? He took care of us. Thanks, Dalbir!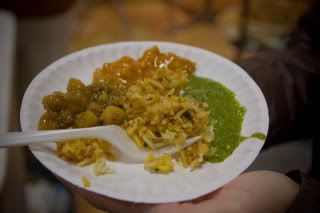 Sukhi's biriyani, chutney, and chickpeas
Their newest product is Biriyani (Indian fried rice) and chicken samosa. I was introduced to samosas over 10 years ago and have never seen anyone do chicken samosas before! Although I did wish it in my mind. Super delish! Usually, samosas have a potato filling.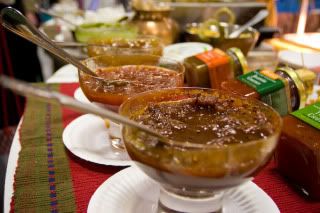 Sukhi's chutneys
They also have a wide array of chutneys, curry paste, spice mixes, naanwich, and frozen entrees. Sukhi's has options for those who cook and for those who only use the microwave. So there's no excuse not to try her food.
Sukhi's Indian food is authenticly delicious and amazing! It's like having Sukhi cook for you. What I really like about Sukih's food is that it's tasty, yet not overwhelmingly spicy. Find her line at your local Whole Foods or natural food store. Last year, I met Sukhi Singh, owner of Sukhi's Gourmet Indian Cuisine, at the Fancy Food Show 2009.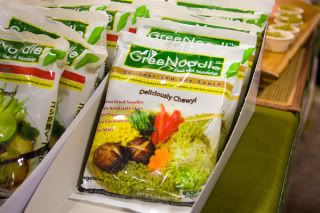 GreeNoodle
I was pleasantly surprised with GreeNoodle. It's an organic, instant ramen noodle made with Moroheiya, a healthy green vegetable. This vegetable, also known as Mallow Leaves, Juete Mallow, and Jew's Mallow, was the Egyptian queen Cleopatra's beauty secret. Moroheiya has more Potassium, Calcium, Beta carotene, fiber, and vitamins than spinach, broccoli, and carrots.
Mr. Sho Oga, founder of GreeNoodle, was a typical employee working for a company in Japan. He had an inspiration to create a healthy food that was nutritious yet tasty. He ended up quitting his job and moving to Thailand to farm organic Moroheiya.
GreeNoodle doesn't really taste like a vegetable but more like noodles. What a great way to feed vegetables to kids (and some adults) without them knowing it! Their noodles come packaged with tom yum soup, shiitake mushroom soup, or plain with no soup packet. This is a brand new product so look out for it in stores soon.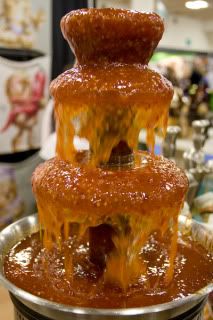 The Ginger People sweet chili garlic sauce fountain
Here is something you don't see every day, a sweet chili garlic fountain! Salivating yet? It's as equally delicious and full of flavor as it looks.
The Ginger People Cooking Sauces
The Ginger People have expanded from a humble line of tasty ginger chews – original and coffee flavor, to a full line of cooking sauces. Their Asian inspired sauces include spicy ginger teriyaki, Thai green curry, sweet ginger chili, and ginger lemon grass sauce. Check out their full line of ginger products
.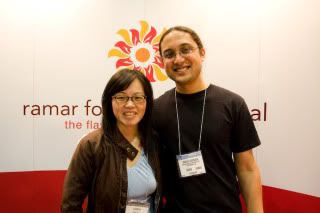 With Ron Quesada of Ramar Foods International
We bumped into someone my husband knows, Ron Quesada of Ramar Foods International. His entire family works in the business.
Ramar Foods International, the flavor of the Philippines, carries several product lines of Filipino food. BestTaste is their line of frozen pork shumai (pork dumpling), siopao (pork bun), and lumpia (which they labeled "spring rolls" at the show, for those who don't know what lumpia is). Frescano is their line of sausages – tocino, longanisa, and hamanado. Manila Gold is their line of juices – calamansi (small Filipino lime), mango, and dalandan (sweet citrus fruit).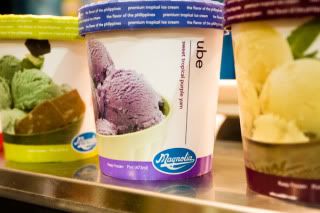 Magnolia ice cream
Perhaps their most famous line is Magnolia ice cream. They make traditional Asian flavors such as ube (purple yam), mango, coconut, red bean, green tea, and halo-halo (fruit mix). You can find Ramar Food International products at your local Asian grocery store, such as Ranch 99.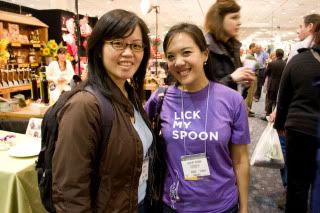 With Stephanie of Lick My Spoon
Towards the end of the day, I bumped into fellow food blogger, Stephanie, of Lick My Spoon. I love her T-shirt. Maybe we'll do YummySF T-shirts next year. Anyone else interested in YummySF T-shirts?