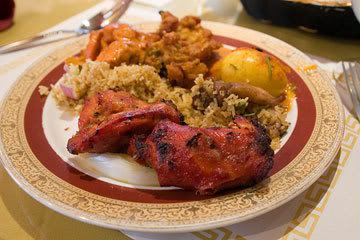 Bombay Garden in Santa Clara is hands down my favorite Indian restaurant. It is a little drive but believe me, it's worth it! On weekends, they have a wonderful buffet lunch with 35 – 40 items. For a period of time, my husband and I went to Bombay Garden's Indian buffet once a week for 6 weeks straight.I like the buffet because it lets me try out different entrees that I normally wouldn't be able to if I ordered off a menu. Fresh naan bread is brought to your table with unlimited refills. Fountain drinks are included in the price as well as all you can drink chai, my favorite tea.
The buffet is set up in 3 sections. One section is for salads, fruits, and sauces. The main section is for Northern Indian food which includes basmati rice pilaf, Tandori chicken, egg curry, lamb sausage, dal makhani (lentil soup), chicken masala, saag paneer (yogurt based, spinach dish with paneer cheese), etc. My favorite dish in this section is navratan korma which is a yellow, cream based, vegetable dish. Everyone that I've told, who has tried it, loves it.In the third section they have Southern Indian food is which mainly fried dishes with some soups. My favorite dessert is here. It's called kheer, which is a yummy rice pudding. Mmmmm…. Then they have a mango ice cream machine.
The buffet price used to be under $10. Can you believe that? Now it is around $12 a person which is still affordable. Bombay Garden has many locations around the Bay Area, basically one restaurant on every bay – North Bay, Peninsula, South Bay, and East Bay. I have tried the San Mateo location, but was disappointed. Santa Clara is the one to go to.
Bombay Garden
3701 El Camino Real
Santa Clara, CA 95051