I have been so addicted to Blue Bottle Coffee lately. Every time I go to the Farmer's Market at the Ferry Building, I have to get a cup of their chocolately smooth drip coffee. Blue Bottle Coffee tastes like no other coffee because the beans are freshly roasted in small batches. The beans are dark roasted, yet the coffee doesn't have a burnt taste like other dark roasted coffees.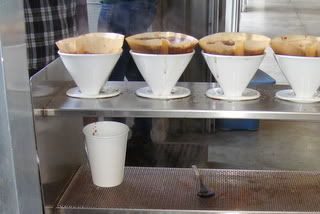 If you get drip coffee, the coffee is manually dripped (above) through a porcelain coffee filter
. Freshly ground coffee is placed in a paper filter within the porcelain coffee filter
. Hot water is poured on the coffee grounds, letting the coffee drip through.
I have also tried their rich and smooth mocha. I'm guessing they use Scharffen Berger Cocoa Powder
because the cocoa has a soft, subtle taste. And Scharffen Berger is located inside the Ferry Building.
The drip coffee is amazing. If you go to the Saturday Farmer's Market at the Ferry Building, be prepared to wait for at least 10 minutes for your Blue Bottle Coffee. If you go on a weekday, the wait is much shorter.
They have 2 Blue Bottle Coffee carts located outside of the Ferry Building on Saturdays. Blue Bottle recently opened a storefront inside the Ferry Building as well.
At $4.50 for the cafe mocha, I decided to buy my own bag of Blue Bottle espresso beans which are only $7 – $7.50 for half a pound. I like to brew my own mocha at home. The person at Blue Bottle Coffee recommended their sinfully rich, Hayes Valley espresso for brewing on my stovetop moka pot. I have been using the Forever Espresso Maker
and love it! It's really easy to brew your own espresso without a complicated espresso machine.
I also use the Nespresso Aeroccino
to perfectly and easily froth my milk. For mocha, I add Green and Black's organic cocoa powder. I spent last month perfecting my Blue Bottle mocha… so delicious and rewarding! I will share the recipe in a future post.
Blue Bottle Coffee
Ferry Building Marketplace
One Ferry Building
San Francisco, California 94111